Really, body sugaring is similar to waxing, only better. And, you can sugar anywhere you wax, including your bikini area. What is great is that body sugaring shows all it has to offer when it is performed on a super sensitive area, like your bikini area. It is then that you really begin to understand the benefits of body sugaring. Your bikini area will be less irritated and you will find the entire experience, less painful. However, before you run into your esthetician's office begging for a sugar, there is an insider lingo in the style department that one needs to be armed with when embarking on a body sugaring of the bikini nature. Rebecca Burstein told me all about it. Let me fill you in, girls
The Landing Strip:  This style of body sugaring leaves a vertical strip of hair in the front, similar to a landing strip at an airport. Hence the name. Hair is removed from the labia and the peri-anal area. It is also called a French Sugar, a Playboy Sugar, or G-Sugar.
The Traditional Bikini: This removes the hair that lives outside the boundaries of the normal bikini. Hair is removed from the inner thighs and the top of the pubic area. I have also heard it called an American Sugar.
Brazilian: Here we have a body sugaring bonanza. All the hair from the pelvic region is removed. This includes hair from the buttocks, anus, perineum, and vulva. Other names for this body sugaring style are the Hollywood Sugar, the full bikini sugar, and the sphinx.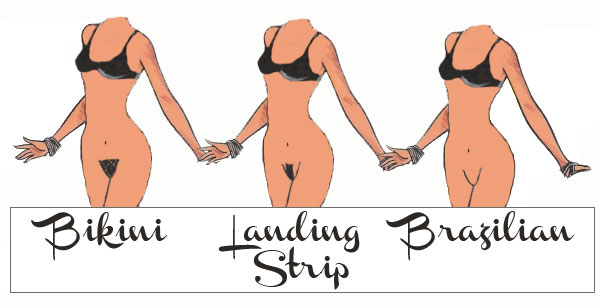 It baffles my mind that when women want to remove hair from their most delicate of regions, they often turn to products and procedures that are incredibly painful and hold the risk of irritation, or worse…burning and scarring. When you are looking at removing hair from such sensitive regions, weigh your options. Body sugaring always comes out ahead. And now, you don't have to go in looking like an amateur you already know all the styles.